Personal Financing-i | HLB Connect | 01 April 2023-30 June 2023
Enjoy exclusive flat rates when you apply via the Bank's website

---



Profit Rate for Online Application
Our rate is based on a flat rate basis
Application Channel: Online (Bank's Website)
Verified Monthly Income
Flat Profit Rate
Facility Tenure
RM2,000 - RM7,999
7.50% p.a.*
2 to 5 years
RM8,000 and above
5.50% p.a.*

Note: The effective profit rates vary as follows for financing-i tenure from 2 to 5 years:
(i) Flat profit rate 5.50% p.a.: Effective profit rates vary from 10.01% p.a. to 10.23% p.a.
(ii) Flat profit rate 7.50% p.a.: Effective profit rates vary from 13.32% p.a. to 13.80% p.a.
(iii) 0.50% of the facility amount will be deducted upon disbursement for stamp duty payable.
Illustration of Instalments
Assuming your verified monthly income is RM8,000 (applicable profit rate of 5.00% p.a) with a total approved facility amount of RM100,000 with 5 years financing tenure:



*Monthly instalment amount will be rounded up to the nearest RM5.
Any adjustment due to rounding will be reflected towards the end of the facility tenure.


Rebate for Early Settlement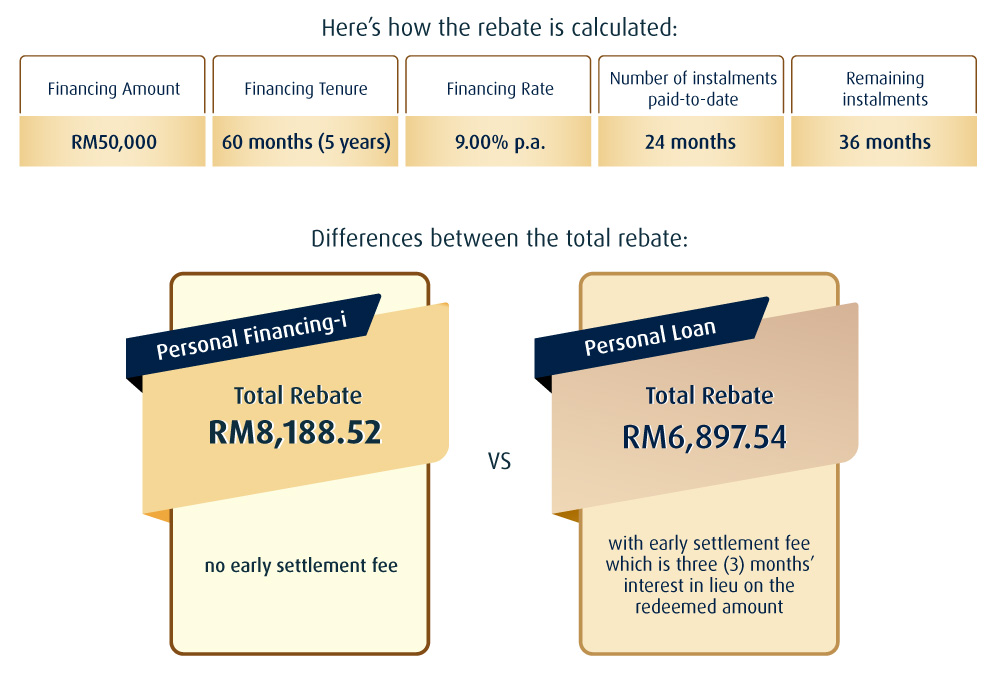 Malaysian citizens aged between 21 to 60 years old
Minimum annual income of RM24,000
Minimum financing amount is RM5,000
Maximum financing amount for Personal Financing-i is RM150,000
Exclusively for online applications only (Bank's website)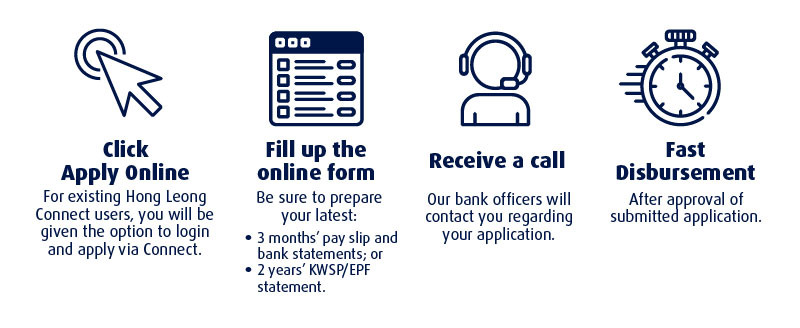 Documents Required For Online Application
You will be prompted to upload the following 5 documents for your online application. Prepare these documents before you start your online application.
Accepted formats: .jpeg, .jpg, .pdf or .png
Max file size: 5MB per document

For Salaried Applicants (Fixed or Variable Income)
1. NRIC front
2. NRIC back
3. Latest EPF statement showing 12 months contribution OR latest 2 years Form BE with proof of tax receipt/latest 2 years LHDN summary sheet for E-Filing submission OR
4. Latest 3 months' salary slips OR 6 months' commission slips with salary or commission crediting.
5. Optional documents (e.g., rental income, proof of bonuses paid, cash investments - FD or Mutual Funds, etc.)
For Malaysians working in Singapore (SG)
1. Latest CPF statement (Malaysians working in SG) showing 12 months contribution OR latest 2 years NOA Form
2. Proof of salary crediting for 3 months
3. Copy of SG work permit/pass/PR


For Self Employed Applicants
1. NRIC front
2. NRIC back
3. Business Registration Document
4. Latest 1 year Form B with tax receipt OR latest 6 months company bank statements OR latest 2 years EPF statement (Sdn Bhd only)
5. Optional documents (e.g., latest 6 months' salary slips/6 months commission slips with crediting proof, rental income, etc.)
For enquiries, connect with us online or drop by your nearest Hong Leong Bank Branch.